DURABILITY AND MATERIALS

All packaging that you receive a Mockberg product in is FSC-certified and comes from Denmark. Mockberg takes responsibility for a sustainable world and has engaged in responsible production and consumption. We also have a policy where we work towards not contributing any waste. When you buy a product from Mockberg, you choose a product that has been created with love and responsibility.
Warranty Information
Questions and answers about products

Does Mockberg's jewelery or watches cause nickel allergy?
No, but if you are very allergic, we do not recommend buying any metal jewelery.

How to shorten Mesh watches?
Step 1 Use a screwdriver or equivalent to loosen the lock.
Step 2 Slide the lock to adjust the length.
Step 3 Slide the lock back to secure the lock.

How do I shorten link clocks?
All link watches need to be adjusted to fit your particular wrist.
We recommend that you visit a watch dealer and ask them to help you shorten the strap.
Please note that Mockberg does not bear that cost.
If you want to do it yourself, you can buy an shortening tool here: https://www.clasohlson.com/se/Kortningsverktyg-f%C3%B6r-metallarmband/p/Pr444036000

How do you take care of your Mockberg jewelry?

-Please store the jewelery in the enclosed silk bag / box when not in use.
-Avoid contact with water, chemicals such as perfume, skin cream and hair spray.
Do not store jewelery in the bathroom or other damp space. -Remove your jewelry when you sleep, sunbathe, shower, or play sports.
-Wait until you are completely dry before putting on the jewelry after showering, bathing or after you have lubricated yourself.
-Note that if you eat any medicine or dietary supplement, this can affect the jewelry based on what the body excretes.
-Wipe your jewelry after each use to get rid of dirt, makeup, salts, sebum, exhaust fumes etc.

I am an Influencer, who do I send my collaboration request to?
Contact us here and we will make sure that you end up with the right person!

Is it free return?
Yes, read more about it here !

Can I buy watch bracelets that fit my watch?
Yes, you can order bands on our website under the category watch bracelets .
If you do not know which bracelet that fits your watch, you are welcome to ask us . We have updated the designs over the years, if you have an older watch, you can therefore need a special band.
Recensioner
100
granskare skulle rekommendera den här produkten
Skriv en recension
Ställ en fråga
07-08-2022
Carl K.

Sweden
Jag rekommenderar den här produkten
ORIGINAL LINKS GOLD 28 WHITE DIAL
A truly amazing watch to behold. My girlfriend was verry pleased with this gift and so am I. The watch has a luxurious aura about it witch always catches my eyes. The watch is nicely weighted, has a beautiful shine and a clean white dial with discrete hands. We love it.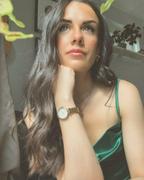 05-11-2022
Madeleine M.
Stockholm, Stockholm County, Sweden
Fantastiskt fin klocka
Det var kärlek vid första ögonkastet! Älskar denna klocka, den passar vid alla tillfällen. En känsla av lyx!
04-03-2022
Izabella I.
Gnesta, Södermanland County, Sweden
Lyx
Känns så lyx, kan ha den både till vardags och fest!
02-24-2022
Christine A.
Vaxjo, Kronoberg County, Sweden
Supersnygg klocka
Blev så nöjd med denna fina klocka. Nackdelen var att man måste gå till en klockförsäljare för att få armbandet att passa armen, justeringen brukar min man annars fixa men denna var mer komplicerad
12-20-2021
Håkan L.
Oslo, Oslo County, Norway
Original Links gold 28 white dial